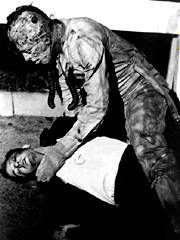 Greetings from el stratosphere. Just a few quick points/requests/updates before we get back to the rock y roll:
--COMMENTS. Granted, G.O.M.E. is about Big Jack's favorite music, but it's also about taking it to the people. A lot of stuff is being downloaded, and I really hope everyone enjoys what they're getting...so please take the occasional moment or two to share your thoughts. This not only helps me make sure I have the correct information posted, but it'll help me make decisions regarding future postings. Hell, disregard the old "no request" rule. If you want to request something in the COMMENTS section of a post, feel free. I encourage that, actually. Speak your mind!
--I'm certainly not running out of music, but I might be relaxing a bit on my posting criteria. Initially, yeah, I wanted to post my favorite music, but I wanted to specialize in rare/hard to find/out of print albums. Call me paranoid, but the reason for that is two-fold. First and foremost, I know how much I enjoy searching for a lost gem, be it online or in the local record shop, and finally finding it. I also enjoy passing it on. Second, the RIAA doesn't intimidate me in the least, but the cease & desist orders would certainly get annoying. Still, I spend a lot of time browsing my peers' blogs (I've linked some great ones on the righthand side of this blog), and I've found a lot of readily-available music. I think that's GREAT! Still, I'm not really interested in posting a bunch of albums you can go purchase at your local mom & pops, or even at Amazon, so you won't see a lot of that here. When I DO post something in print, please keep in mind that the download is for previewing purposes, and if you like it, you'll buy it, and if you don't, you'll delete it.
--
ELEVATED RADIO
should FINALLY debut next Monday. I'm still working out some kinks and getting everything set up the way I want it. Once we get rollin', there'll be a new show up every Sunday night/Monday morning. Any helpful hints and tips from experienced Podcasters are appreciated.
Big Jack