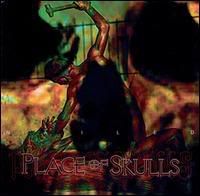 Anyone vaguely familiar with Victor Griffin's work with PENTAGRAM is probably also familiar with PLACE OF SKULLS. A late-era Man's Ruin casualty resurrected by the mighty Southern Lord in 2002,
Nailed
is a thoroughly enjoyable slice of traditional doom rock. While WINO joined for the 2003 follow up (
With Vision
), Victor Griffin more than holds his own here. Highlights include an interesting take on THE ANIMALS' "Don't Let Me Be Misunderstood" and the melodic "Love She Gave". Also check out the opening riff on the album's closer, "Song of Solomon".
1. The Fall
2. Never Die
3. Dead
4. Don't Let Me Be Misunderstood
5. Feeling of Dread
6. ...
7. Love She Gave
8. Return
9. Song of Solomon
DOWNLOAD