The music of J MASCIS has a permanent place on my "desert island list", right alongside FUNKADELIC and KYUSS. Information on J's bands (DINOSAUR JR, THE FOG, WITCH) is widely known and easily available on the web, so I won't post a lot of boring details. I think Michael Azerrad best described J's contributions to rock music is his excellent book
Our Band Could Be Your Life
, when he said J MASCIS gave the 80s indie rock underground its own guitar hero.
A lot of folks that visit this page to worship at the altar of KYUSS and ELECTRIC WIZARD probably don't care much for J's Neil-Young-Meets-Sonic-Youth-at-a-Minutemen-Concert style, but I know some of you will appreciate this music, and maybe even hear something new. No, DINO JR and THE FOG aren't standard G.O.M.E. fare, but if it's too old, you're too loud!
DINOSAUR (1985)
Dinosaur
is pre-Jr DINOSAUR's 1985 debut, and while it's a bit of a mess stylistically, it's still one of the best records to rise from the 80s underground. Mascis & Co. perfected their craft with their sophomore LP,
You're Living All Over Me
,
but this is still an excellent album. A remastered edition was issued in 2005 on Merge Records, including detailed liner notes and a rearranged tracklisting. I strongly recommend
picking up the reissue
. For the shitty quality I'm sharing here, you'll likely need to invest a substantial amount of time and money.
1. Forget the Swan
2. Cats in a Bowl
3. The Leper
4. Does It Float
5. Pointless
6. Repulsion
7. Gargoyle
8. Severed Lips
9. Mountain Man
10. Quest
11. Bulbs of Passion
DOWNLOAD
IN SESSION (1989-2002)

In Session
is a collection of BBC performances DINOSAUR JR recorded between 1989 and 2002. The highlights, in my opinion, are "No Bones" and "Get Me". The chorus of "Bulbs of Passion" somehow manages to be more abrasive than the

Dinosaur

version. Overall, it's a solid, if brief, compilation of BBC Sessions.

1. In a Jar
2. Leper
3. Keep the Glove
4. Budge
5. Bulbs of Passion
6. Raisans
7. Keeblin
8. No Bones
9. Does It Float
10. Get Me


DOWNLOAD
Jayloumurph (1993)

The 1993 release date is actually a bit misleading, as this set was recorded at the Ritz (NYC) on 2/18/89. The sound quality isn't the best I've heard, but it is a soundboard recording, and an "official release". Available in 1993 as an Italian import, it's even harder to find 14 years later.

1. In a Jar
2. The Lung
3. The Post
4. Bulbs of Passion
5. No Bones
6. Freak Scene
7. Tarpit
8. Yeah We Know
9. Chunks
10. Muffler
11. Don't


DOWNLOAD
DINOSAURS ARE STILL ALIVE (1991)


This is one of my favorite DINO JR bootlegs. Recorded 6/14/91 at the Hollywood Palladium, it's a quality recording and a great set. J's solo on "Thumb" (one of my favorite Mascis tracks) seems to go on forever, but it never gets boring.

Jayloumurph

is rare and cool to have, but

Dinosaurs Are Still Alive

is the superior performance and recording. Awesome.

1. The Lung
2. Water
3. The Wagon
4. Keep the Glove
5. Blowin It/I Live for That Look
6. Tarpit
7. Kracked
8. Freak Scene
9. Thumb
10. They Always Come
11. Budge
12. Sludgefeast


DOWNLOAD
2001 Peel Session (with WATT)


While the J MASCIS + THE FOG debut,
More Light
, was recorded primarily by Mascis and Mascis alone, the touring band included George Berz on drums and the legendary Mike Watt (Minutemen, fIREHOSE, Dos) on bass. I saw THE FOG on this tour, at the Bottleneck in Lawrence, KS, and was blown away. I even got to meet Mike Watt after the show, and he autographed my flier ("JACK. LOVE & BASS. WATT."). I'm still collecting recordings from this era, and my stash is limited. If you like what you hear, and you haven't already done this,
go register at freesofree.net
. It's free (so free...sorry) and there's a wealth of bootlegs spanning J's entire career. The shows are available with his blessing (the site is even advertised and linked on
J's own site
).

1. Same Day
2. Ammaring
3. Waistin
4. I'm Not Fine
5. Everything Flows (medley)


DOWNLOAD
2002 PEEL SESSION (solo)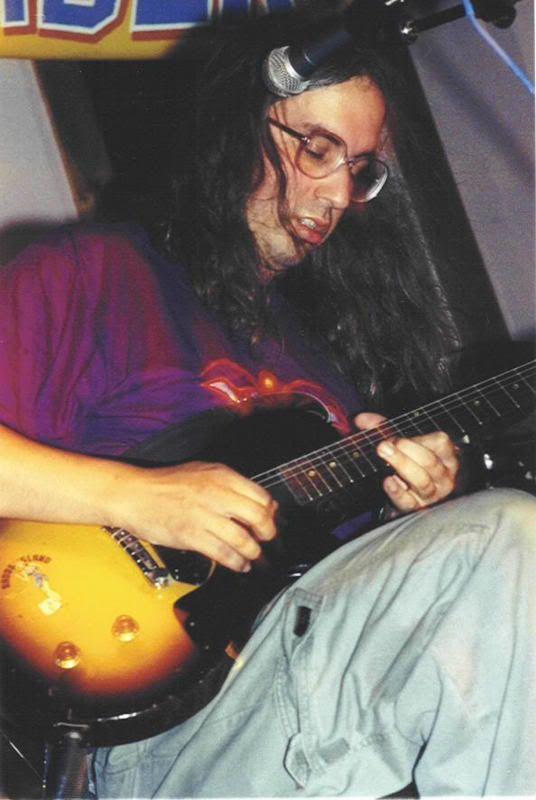 Recorded 11/28/02, this is a quick solo set features an excellent rendition of "Alone", as well as further proof that J never gets tired of playing "Freak Scene". Lucky for us it's a great song. I really dig this set. Wish it was longer.

1. I Feel Like Going Home
2. Alone
3. Everybody Lets Me Down
4. Freak Scene


DOWNLOAD
BROKEN MASCIS SCENE (2006)

Over the years, J Mascis has become increasingly involved with
Amma
and her many humanitarian causes and charities (see "Ammaring", from THE FOG's

More Light

LP).

Broken Mascis Scene

is a recording of an Amma tribute show in Toronto in which J teamed up with Canadian rockers BROKEN SOCIAL SCENE and billed themselves as BROKEN MASCIS SCENE. This particular show took place on 6/23/06, and the original DINOSAUR JR had reconvened (and toured), so J's performance is road-tested and sharp. The entire setlist is DINO JR material, and we even get some classics ("Thumb", "Start Choppin", "The Wagon") that aren't played very often.

1. Intro
2. Feel the Pain
3. Out There
4. Same Day
5. The Lung
6. Start Choppin
7. Freak Scene
8. Ammaring
9. Tarpit
10. They Always Come
11. Thumb
12. The Wagon
13. Get Me
14. Encore Break
15. Alone


DOWNLOAD
LIVE IN BERLIN (2006)

This is a great acoustic set from last month (12/16/06), when J opened for SONIC YOUTH in Berlin. The sound quality was initially pretty shitty, but I gave it the ol' elevator treatment and I think it turned out OK. The setlist is great, kicking off with an abbreviated version of "Thumb", as well as acoustic renditions of "Blowin It" and "Quest". Throughout the set, J uses a sampler to loop himself playing the rhythm track, starts the replay by stomping on his pedal, then playing leads over it. This method is particularly effective on "Get Me".

1. Thumb
2. Blowin It
3. Repulsion
4. Freak Scene
5. What Else Is New
6. Quest
7. Tuning/Get Me loop
8. Get Me
9. Not You Again
10. Alone


DOWNLOAD
ZENITH (2006)

A reunited DINOSAUR JR performing in Paris only four days after the above solo set (12/20/06). With only a seven-song setlist, it's interesting that the band revisits so much material from the first two albums (four songs). Most noteworthy, though, is "Back to Your Heart", a brand new song that will presumably be included on

Beyond

(the new DINO JR album to be released 5/1/07). The sound quality here is nothing to write home about, but it's great to hear the original trio back together.

1. Gargoyle
2. Feel the Pain
3. Little Fury Things
4. Back to Your Heart
5. Forget the Swan
6. Freak Scene
7. Sludgefeast


DOWNLOAD
ODDS N' ENDS (1985-2006)

This is just a quick compilation of random Mascis tracks...covers, one-offs, b-sides, soundtracks, etc.

1. Dinosaur Jr - Turnip Farm (

Reality Bites

soundtrack)
2. Dinosaur Jr - I've Been Waiting for You (Neil Young cover)
3. J Mascis - Take a Run at the Sun (

Grace of My Heart

soundtrack)
4. Dinosaur Jr - I Misunderstood (Richard Thompson cover)
5. J Mascis - Too Hard (Sept. 2001 - Sub Pop 7" Singles Club)
6. J Mascis + The Fog - Cyborg Kids (Guitar Wolf cover)
7. Dinosaur Jr & Del the Funky Homosapien - Missing Link (

Judgment Night

soundtrack)
8. Dinosaur Jr - Goin' Blind (KISS cover)
9. J Mascis - Leaving on a Jet Plane (Sept. 2001 - Sub Pop 7" Singles Club)
10. Dinosaur Jr - Quicksand (David Bowie cover)
11. Mike Watt, J Mascis & Bernie Worrell - Maggot Brain (Funkadelic cover)
12. Dinosaur Jr - Hot Burrito #2 (The Flying Burrito Brothers cover)


DOWNLOAD