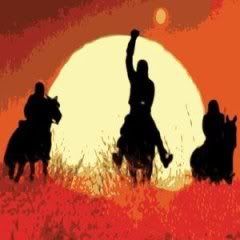 The Ogmonster requested this Los Angeles masterpiece, and I'm happy to post it. SASQUATCH's sophomore effort is one of my favorite albums of the past couple of years. While the band's eponymous debut was excellent,
II
offers a bit more variety, namely the mellower moments of "Nikki" and "Catalina". For the uninitiated, SASQUATCH is an incredible band from LA that melds a traditional groove-heavy desert vibe with traces of SOUNDGARDEN and the occasional dash of southern-fried whiskey rock. Keith Gibbs currently employs my favorite guitar tone in rock. Don't let the SOUNDGARDEN similarities discourage you. Keith's guitar is probably the fuzziest in the business right now, and his voice and talent allow the band to take full advantage of memorable, but powerful hooks. Check out "The Judge" and "Barrel of a Gun", then pay the good folks at
Small Stone
a visit. Highly recommended.
1. Let It Out
2. The Judge
3. Pleasure to Burn
4. Barrel of a Gun
5. Seven Years to Saturn
6. Nikki
7. Off the Rails
8. Glass Houses
9. Rattlesnake Flake
10. Catalina
11. What Have You Done?
DOWNLOAD