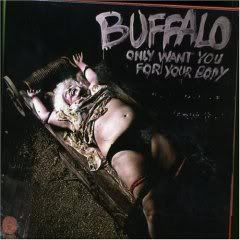 Since BUFFALO's
Volcanic Rock
seemed to go over well, I thought I'd post the follow-up,
Only Want You for Your Body
. While comparable to
Volcanic Rock
, I should point out that BUFFALO's signature silliness takes the forefront on this (and subsequent) release(s). It's still a hell of a rock record, though some would say it pales in comparison to its classic predecessor. Not absolutely essential, but a worthy addition to any rock collection.
Note: This album has been
re-released, on the Aztec label,
with bonus tracks.
1. I'm a Skirt Lifter, Not a Shirt Raiser
2. I'm Coming On
3. Dune Messiah
4. Stay with Me
5. What's Going On
6. Kings Cross Ladies
7. United Nations
DOWNLOAD