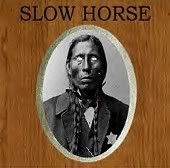 This obscure slice of melodic doom is the eponymous debut of New York's SLOW HORSE. Highly recommended to fans of SAINT VITUS and THE OBSESSED. Much like the aforementioned, what separates SLOW HORSE from the pack is a top-notch vocalist, Dan Bukszpan. Bukszpan actually reminds me a great deal of
Wino
, riding the immense riffs and grooves with a clean and melodic delivery (without sounding "operatic"). Highlights include the eight-minute warhorse "All Good Intentions", featuring lots of melodic wah guitar and extended instrumental breakdowns, and a cover of Chris Isaak's "Wicked Game". The whole record is solid, and should be a big hit among the G.O.M.E. faithful (the majority of whom seem to really enjoy downloading the albums, but neglect to leave comments...tap-tap...is this thing on?).
1. Lick My Wounds
2. All Good Intentions
3. Wicked Game
4. When Are You Coming Home?
5. No One Wants You When You're Down
6. What's the Use?
DOWNLOAD