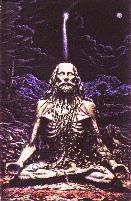 This one's for our main man Roadburner (sorry for the delay, bro). The rest of you can take it or leave it. A lot of people hate ACRIMONY, calling them knockoffs, wanna-bes, poseurs, trend-hoppers, and various other disparaging names. Hell, I believe G.O.M.E.'s own Mighty Matias put it bluntly on this very page: "I don't like ACRIMONY". Well, this demo from '92 is proof positive that ACRIMONY did indeed ape, or attempt to ape, the desert sound.
A Sombre Thought
is death doom with some thrash/speed metal passages. Based on this tape, you'd never in a million years imagine this band releasing some of the best desert-influenced groove-based rock of the old century. If I haven't made myself clear, let me come right out and say it: I love ACRIMONY, but I never listen to
A Sombre Thought
. Thank god these guys discovered KYUSS.
1. Ever Sleeping Dawn
2. Mourn the Dead
3. Carved in Stone
DOWNLOAD