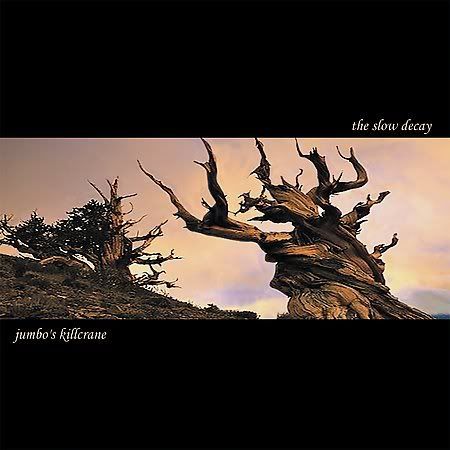 Sludgemonsters JUMBO'S KILLCRANE originated just down the interstate from Big Jack Manor, performing in Lawrence, Kansas and recording this record in tiny Eudora. I would rate JKC among the more interesting sludge bands, if only because their location lends itself to a more psychedelic bent than most of their contemporaries. If the title track sounds familiar, it's probably because I've played it on ELEVATED RADIO. I find it to be the best song on the album. The entire album is solid, if somewhat of an endurance test. The mighty closer, "Die, Stabbed" has some very cool interplay between the guitar and bass during the more frantic passages. In closing,
The Slow Decay
is a great take on a genre firmly rooted in the south - not a WEEZER-lovin'/ honk-for-hemp college town where the best record shop in town is called The Love Garden*. Brutal sludge from a most unlikely place.
1. Intro
2. The Slow Decay
3. Brown
4. Locust Blanket
5. Coital Abyss
6. Die, Stabbed
*-Lawrence might actually be the coolest fuckin' town in the nation. I love everything about it. Just seems an unlikely haven for JUMBO'S KILLCRANE!
DOWNLOAD