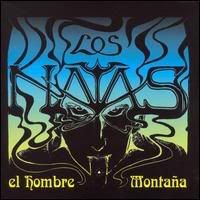 Straight out of Argentina, G.O.M.E. brings you the latest from stoner rock heavyweights LOS NATAS. This submission came from G.O.M.E. regular Matias. He posted it weeks ago, but if you didn't check the comments sections, you would've missed it.
This is a remarkable album. Actually one of the best I've heard in quite some time...even if it does remind me that I need to brush up on mis espanol. These guys are true "sons of KYUSS", with plenty of bludgeoning riffs accompanied by an ever-present groove, not to mention the Homme-esque guitar fills present throughout the album. LOS NATAS is a band of kick-fuckin'-ass musicians, with more diversity than most bands in the genre could every dream of. Just check the mellow acoustic tune "El Camino de Dios". The highlight for me, though, is the closer. "Sigue, Sigue..." is one of the best songs I've heard this year. I've caught myself playing this multi-part epic on repeat more than a few times since Matias turned me on to these guys. Highly recommended to the G.O.M.E. faithful as a whole. If you didn't love what LOS NATAS is all about, you never would've found your way here.
(note to Matias: I'm back on track now, so if you want to submit anything else, I assure you it won't take me three weeks to post it. Your contributions are appreciated, man!)
1. El Bolsero
2. Amanecer Blanco
3. No es llo Mismo
4. Humo Negro de Vaticano
5. La Espada en la Piedra
6. El Ciervo
7. El Camino de Dios
8. De las Cenizas, El Hombre...
9. El Soldado
10. Lanza Ganado
11. Sigue, Sigue...
DOWNLOAD