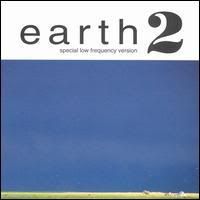 You've heard of love-it-hate-it albums? Well,
Earth 2: Special Low Frequency Version
might be the world's definitive love-it-or-be-110%-indifferent album. It's impossible to hate the craft, because it's impossible to disregard the work that goes into it. Still, in the end, EARTH ain't for amateurs. It's a bunch of noise that people will find either beautiful or baffling.
1. Seven Angels
2. Teeth of Lions Rule the Divine
3. Like Gold and Faceted
DOWNLOAD