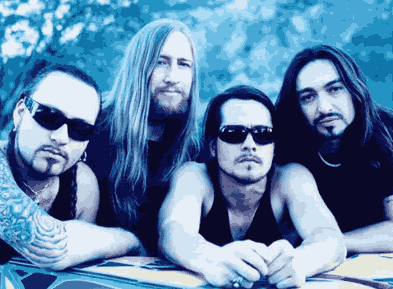 After the dissolution of stoner rock pioneers KYUSS, and a short adventure in SLO BURN, John Garcia (vocals) came back with UNIDA, also featuring Arthur Seay (guitar), Dave Dinsmore
(bass) and Mike Cancino. (drums). Dinsmore was eventually replaced by Scott Reeder, also formerly of KYUSS.
In 1999, UNIDA appeared on a split CD release with Swedish band DOZER. The UNIDA portion was titled The Best of Wayne-Gro EP. Later that year, they released their debut full length album entitled Coping with the Urban Coyote on the now defunct Man's Ruin label.
The relations with their next record company, American Records, ended with legal problems. What was to be their second album, The Great Divide (scheduled for release in 2001) has yet to be released.
THE BEST OF WAYNE-GRO EP (1999)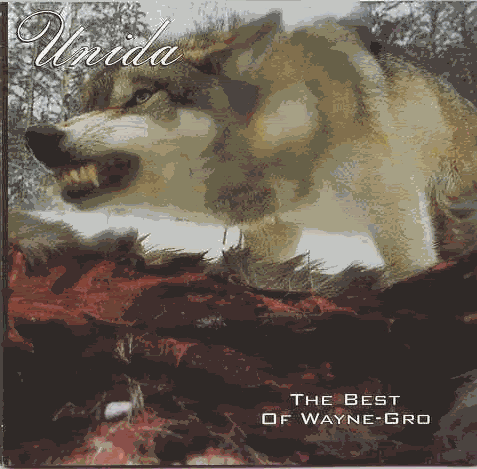 This is the aforementioned UNIDA half of a split EP with DOZER. The original is long out of print, but a reissue is now available as an import. While the reissue is overpriced and can take weeks to arrive (4-6 weeks from Amazon), its availability is the only reason I hesitiate to include the DOZER tracks here. Truth be told, while DOZER is a solid band in their own right, their contribution to this EP pales in comparison with that of the mighty UNIDA. Basically, the inclusion of DOZER on this release makes it the stoner rock equivalent of a Beatles/Badfinger split EP.
1. Flower Girl
2. Red
3. Delta Alba Plex
4. Wet Pussycat
COPING WITH THE URBAN COYOTE (1999)

This is UNIDA's full-length debut, and, for my money, among the finest hard rock albums ever recorded. A lot of loyal KYUSS devotees were disappointed in UNIDA, and it's easy to see why. While KYUSS liked to spend substantial amounts of time in the stratosphere, Garcia and company stay firmly grounded on this album, committed to kicking ass and not much more. That's not to say the entire LP lacks the experimentation of KYUSS, as the album's mellow closer, "You Wish", accounts for a full quarter of the CD's run-time. Still, when compared with former sidekick Josh Homme's QUEENS OF THE STONE AGE, this album proves that KYUSS was being pulled in two completely different directions. Sadly, this essential LP is out of print, with used copies going for as high as $150.


1. Thorn
2. Black Woman
3. Plastic
4. Human Tornado
5. If Only Two
6. Nervous
7. Dwarf It
8. You Wish
DOWNLOAD
THE GREAT DIVIDE (2001)
This album has been surrounded by controversy for years, and the details are sketchy at best. Conflicting stories abound, to the extent that I don't even know if Scott Reeder is playing on this one or not. What I do know is that this album is among John Garcia's best work, and one of my all-time favorite rock records...even though it's never seen an official release. Super-producer Rick Rubin signed UNIDA to his American imprint, only to transfer the band's contract to Island/Def Jam before the album's release. Ironically, this was around the time that Garcia's ol' buddies in QUEENS OF THE STONE AGE were becoming mainstream mainstays, with many publications deeming them the saviors of rock n' roll. Had
The Great Divide
been released as scheduled, it would've gone head-to-head with QOTSA's
Songs for the Deaf,
and in the opinions of many fans, won.
Songs for the Deaf
was (and is still) a great record, but
The Great Divide
is truly classic. While UNIDA does recycle a couple of songs from their indie releases, that's not uncommon when jumping to the proverbial "big leagues", and in context of the LP as a whole, the songs fit perfectly. The production is top-notch. I put
The Great Divide
up there with the classic releases of KYUSS, though John Garcia has NEVER sounded better. When QOTSA were "bringing rock back", the K-word was on the lips of every rock fan, and they would've sought out John Garcia and UNIDA. I have no idea what goes on "behind the scenes", but I do wish Rick Rubin would've put HALF the effort into this project that he did Danzig and Johnny Cash. As it turns out, this is all we have of UNIDA (though the band did sell an abbreviated version of the album at shows called
El Coyote
). John Garcia went on to form HERMANO (which kicks ass) and
The Great Divide
was left to travel among our merry band of bootleggers. This wasn't the only time Rick Rubin dropped the ball, but we'll discuss the great FLIPPER another day.

1. Coffee Song
2. Stray
3. Summer
4. Wet Pussycat
5. King
6. Human Tornado
7. Trouble
8. Cain
9. Vince Fontaine
10. Hangman's Daughter
11. Glory Out
12. Slaylina
13. Thorn
14. MFNO
15. Last Day
DOWNLOAD