England's ELECTRIC WIZARD is often referred to as "the heaviest band in the universe". Originally known as THY GRIEF ETERNAL, the band made its debut in 1993 on a split release with OUR HAUNTED KINGDOM (who would eventually become ORANGE GOBLIN), and issued their eponymous LP the following year. 1996's
Come My Fanantics...
is one of the stoner/doom genre's most beloved records, rivaled only by a handful of albums, including ELECTRIC WIZARD's own 2000 masterpiece,
Dopethrone.
The band changed directions slightly with 2002's
Let Us Prey,
focusing more on texture and ambience as opposed to sheer volume and distortion (though
Let Us Prey
is by no means a "mellow" album). 2004's
We Live
continued in a similar vein.
CHRONO.NAUT [EP] (1997)


Chrono.Naut
is another Man's Ruin casualty (you'll see a lot of those on this blog), initially released as a standalone EP, and repackaged the same year as a split with ORANGE GOBLIN. "Phase I" is pretty standard fare, but I really dig "Phase II". Again, I hesitate to refer to ANYTHING by this band as "mellow", but it introduces a bit of a HAWKWIND influence and a spacey element that they'd experiment with later.

1. Chrono.Naut Phase I
2. Chrono.Naut Phase II (Chaos Revealed)


DOWNLOAD
SUPERCOVEN [EP] (1998)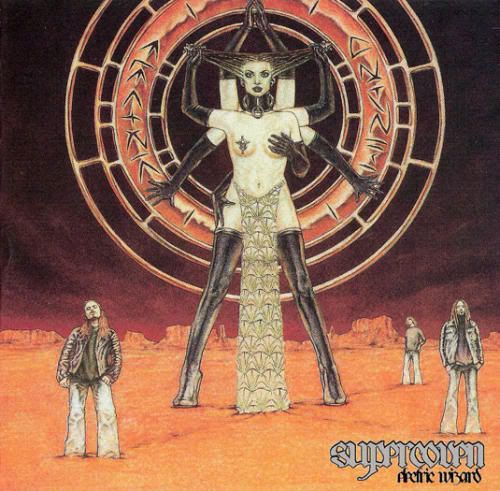 Supercoven
is another EP that was released during the four years between

Come My Fanatics...

and

Dopethrone

. There are two versions of this EP - this edition, and another that includes two additional tracks (the additional tracks are pointless. One is intentionally bad, and the other is a live performance that sounds like it was taken from someone's voicemail). The two tracks here are classic ELECTRIC WIZARD monoliths, hinting at the direction the band would take a year later on the classic

Dopethrone.



1. Supercoven
2. Burnout


DOWNLOAD
LIVE AT THE STAR BAR (2002)



Now is probably as good a time as any to point out that none of these are particularly good introductions to the greatness of ELECTRIC WIZARD. I highly recommend
Dopethrone
to anyone who enjoys great hard rock, especially BLACK SABBATH, SAINT VITUS, and KYUSS. That said, this is a great performance, recorded in Atlanta, and kicks off with two classic

Dopethrone

songs.

1. Dopethrone
2. Funeralopolis
3. Interlude
4. The Chosen Few
5. Priestess of Mars
6. Return Trip


DOWNLOAD