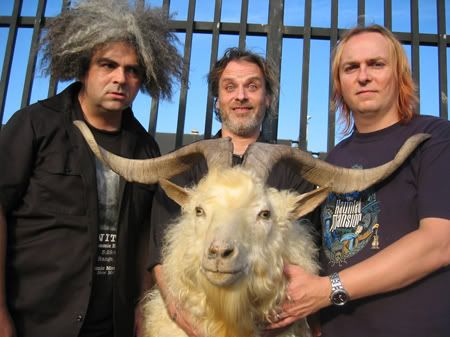 An anonymous visitor requested the MELVINS' trilogy. I assume he/she was referring to the 1999/2000 Ipecac trilogy, so here it is:
THE MAGGOT
The most bizarre album in the discography of a most bizarre band,
The Maggot
is challenging on every level, right down to the sequencing. Each song is divided over two or more tracks (a sure nightmare for you LimeWire heads, though I seriously doubt that was the band's intent). King Buzzo's riffs have never been heavier (OK, maybe on
Bullhead
), and while this collection is challenging, it's quite consistent. Seven songs spread over the course of 16 tracks, including a cover of FLEETWOOD MAC's "Green Manalishi" (also covered by JUDAS PRIEST and CORROSION OF CONFORMITY, among others).
1. Amazon
2. Amazon [continued]
3. Amazon [continued]
4. Amazon [continued]
5. We All Love Judy
6. We All Love Judy [continued]
7. Manky
8. Manky [continued]
9. The Green Manalishi (With the Two-Pronged Crown)
10. Green Manalishi (With the Two-Pronged Crown) [continued]
11. The Horn Bearer
12. Horn Bearer [continued]
13. Judy
14. Judy [continued]
15. See How Pretty, See How Smart
16. See How Pretty, See How Smart [continued]
DOWNLOAD
THE BOOTLICKER
The Bootlicker
is another story entirely. The MELVINS have never made an "accessible" album, but this one might be their most "reserved". It's actually one of my favorite MELVINS albums. While there's nothing here they hadn't experimented with before, it's an extremely cohesive and succinct affair. Aside from the excellent song titles, the music itself shows why the guys in TOOL are such huge MELVINS fans. The influence has always been present in TOOL's records, but
The Bootlicker
could almost BE a TOOL record.
1. Toy
2. Let It All Be
3. Black Santa
4. We We
5. Up the Dumper
6. Mary Lady Bobby Kins
7. Jew Boy Flower Head
8. Lone Rose Holding Now
9. Prig
DOWNLOAD
THE CRYBABY
The Crybaby
, the final installment of the trilogy, teams the MELVINS up with various friends and extended family, including Hank III, Henry Bogner (of HELMET low-end fame), Mike Patton, the aforementioned TOOL, and 70s teen idol Leif Garrett, among others. With only five songwriting credits for Buzzo (all co-credits, mind you)
The Crybaby
is clearly chock-full of covers, but also a collaborative effort. Despite being a bit diffuse and inconsistent (stylistically the tracks pull complete 180s throughout the album, from traditional MELVINS fare to white noise to country/western and back again), I find this album completely enjoyable, and one of the few cover/collab records that actually works.
1. Smells Like Teen Spirit (w/ Leif Garrett)
2. Blockbuster (w/ David Yow)
3. Ramblin' Man (w/ Hank III & Henry Bogdan)
4. G.I. Joe (w/ Mike Patton)
5. Mine Is No Disgrace (w/ Foetus)
6. Spineless (w/ Skeleton Key)
7. Divorced (w/ Tool)
8. Dry Drunk (w/ David Yow & Godzik Pink)
9. Okie from Muskogee (w/ Hank III & Henry Bogdan)
10. The Man with the Laughing Hand Is Dead (w/ Bliss Blood)
11. Moon Pie (w/ Kevin Sharp)
DOWNLOAD

BONUS:



I thought I'd also add this Buzz Osbourne interview, compliments of the
Southern Records podcast
, from last December. Some of you might dig it.

(A) Senile Animal

was a new release at the time, so they play cuts from that, and you can also hear the legendary FLIPPER (one of my all-time favorite bands) tuning up for their set. Check it out:


DOWNLOAD